"iz .art" : Painting / Introduction
Despite their versatility, Iz Maglow's colorful and form-rich world of images ultimately revolves around three themes that recur in different contexts over the years. Acting figures in structured networks as well as symbolic signs and meditative calm. Since the painter revisits earlier themes, even after years with a meanwhile altered pictorial language, this website is not structured in chronological order, but according to theme groups.
Interactions in Structures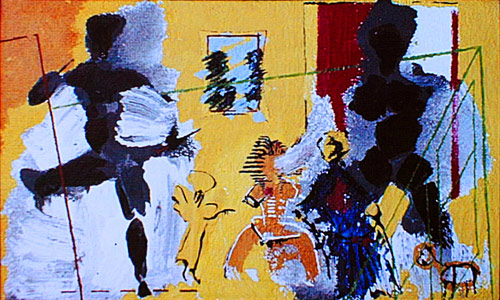 Different "actors" are related to each other and at the same time interwoven with their surrounding structures.
Signs and Symbols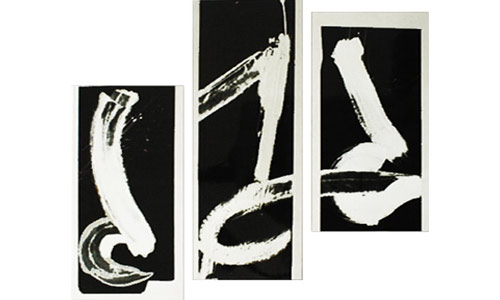 In addition to picturesque interpretations of "music", works on the subject of "Libra" and "bull" play with symbolic attributes.

MUSIC painting runs like a red thread through the art of Iz Maglow. In Music (Part 1), "Expressive Sound Images" (1990 to 2006), "Music in Color" (1982 to 1991), "Musical Images" (1987 to 1989) and "Individual Music Notes" (1988) constitute colorful painterly interpretations of music, Timbre or rhythm. In Music (Part 2), "Music in Graphic Design" (1985 to 1991) gives a brief overview of the use of Iz Maglow's paintings for CD, LP, poster or program booklets. In addition, "Stravinsky Wand" (1988), "Sound Installations" (1982/1983) and "Event Drawings" (1983) show a broader spectrum of his art and the proximity of some paintings to concrete stage events and his stage sets.
The Scale Wall-Installation (1987), which Iz Maglow created for a well-known scale manufacturer in Stuttgart, presents itself like a huge painting. Studies, sketches and plans for the work Scales explain the background and the sequence of this art installation over 5 levels. The "Layers in Detail" illustrate the subject of weighing over the centuries and give an impression of the paintings on an Egyptian, Greek, Roman, medieval and digital level. In addition, "Scales in Paintings" deal with symbols and customs of weighing, primarily in ancient Egyptian culture.

In the early eighties, the artist created a large series of modern paintings on the subject of BULL. His series "Me as Bull" (1982 to 1985) and "Bull Patches" (1982), which is clearly inspired by &quotPop Art Painting&quot, go back to his first, earlier works such as "Bull and Beef" (1978 to 1982). Symbols and mythology served as inspiration for Iz Maglow's paintings as well as early cave paintings.
Silence and Meditation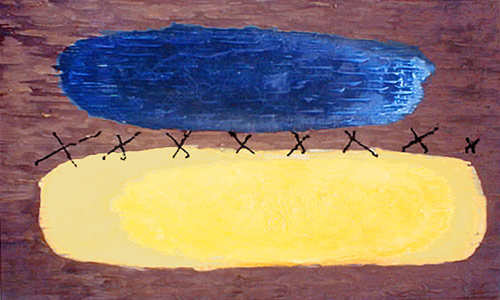 These early, completely different images have a similar meditative calm as some of the more recent paintings and sculptures.

Works from three subgroups are summarized unter Meditative. Experiments with acrylics, wax, mirrors and other materials brought Iz Maglow to his Early Evaporation (1981). These works are strictly relics of art installations. The surface of a huge amount of acrylic paint, which spreads over a monochrome canvas, is forced into a geometric shape. It reflects the process of painting as a meditation in the "Experimental Evaporation Paintings" (1981 to 1982).

At the beginning of the eighties Iz Maglow dealt with color studies and action pictures, which were experimental preparatory work for his evaporation paintings. "Fold, Drip and Soak Studies" (1980 to 1981) are color and material "encounters" on various substrates as well as experiments with material and light.

The temporally later "Color Corners" (1987 to 1988) want to emphasize precisely the intersection of a space in which all three dimensions meet. The color corners connect the wall and ceiling with a colored rest point.

Paintings that address spatial or temporal ideas and flowing structures in different ways are summarized under the heading "Cosmic" (1980er und 2019/20). Overlapping structures and the inclusion of quotations from earlier works create time-spanning connections. In their structural style of painting, these partly new works stand in a row with the "Color Corners" mentioned above and the sculptures that can be seen in the "Silent Witnesses" series.

Paintings were created under the title "Dotted" (1986). These works are reduced to very few colors and shapes and mark a border area in Iz Maglow's paintings. Several points are often understood (as in atomic models) as rows of points, although their connections are purely ideal. In their entirety, all points form their own picture structure.

The element of "Water" (1983 to 1988) appears again and again in the paintings of Iz Maglow and he works on this subject in various ways. In his "Bull" pictures it is just as consistent a picture element as in the "Vis-à-Vis" pictures and most naturally of course in the "Evaporation". Under the title "Floating" you can see works that are primarily devoted to the painterly implementation of the theme "Water".
Fine Art Painting by Iz Maglow
The expressive painting by Iz Maglow covers a wide range of topics. Most of the paintings shown on this website were painted with tempera, pure pigments and / or acrylic on canvas or paper.
But other materials such as graphite, color pencil, pen, lacquer, varnish or oil paints were also used by the painter in addition. The artist is always in search of new ways of expression. So he creates his own visual language and likes to experiment with unusual materials.
In addition to numerous early works, this website also shows on the following pages new works by the painter, who now works in Karlsruhe after many years in Stuttgart, Frankfurt and Bali. In his pictures, the artist also processes the most varied impressions of his travels and stays.
In the latest works, the painter tries to reflect his personal way of seeing individual topics of our time in his paintings with his own style of expression.
Individual Quotes / Press Reviews:
"...In front of his pictures, any stubbornness will fail miserably, cumbersome perception even more..." Kai Hoffmann wrote as early as 1987 in the Frankfurter Rundschau about the artist Iz Maglow, whom he further described in his artist portrait as "...a magician of contrasting and playing...".
Four years later, the same Frankfurt newspaper quoted the art historian Hans-Peter Schwarz, who calls Iz Maglow a "multimedia Vagant", "...which could easily lead the viewer astray...". "...Maglow chooses his picture titles always with a wink, but never arbitrarily..." said Hans-Peter Schwarz further at the opening of the modern painting and stage design exhibition of German artist Iz Maglow in the Frankfurt Holzhausenschloss in 1991.